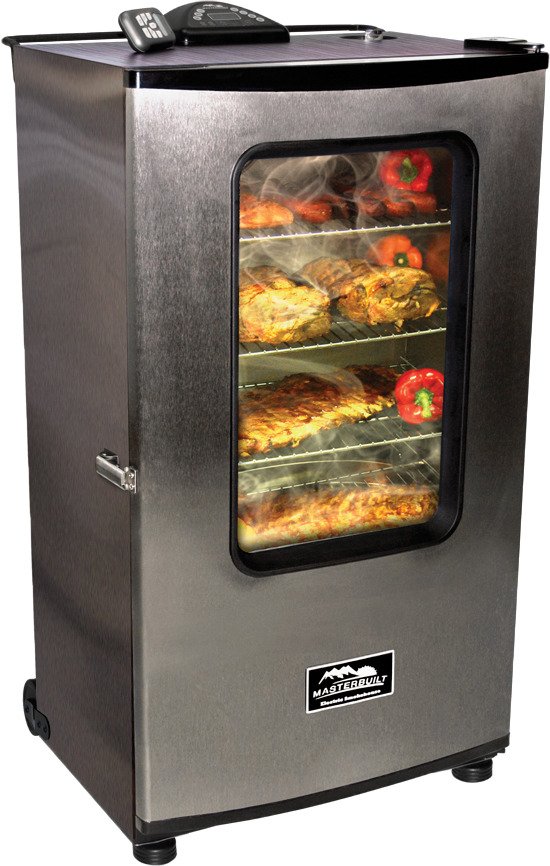 For my birthday and Christmas my dad bought me this
Masterbuilt 40-inch electric smoker
from Academy. At the time, it was on sale for
$249
, though it is now listed for
$299
.
I wanted an electric smoker because, well, sometimes I like to be lazy. I love smoking with charcoal, don't get me wrong. But, especially in late November and December, getting out of bed at 5AM and walking to the shop isn't fun. Additionally, dealing with wind and low temps are aggravating. So, I wanted to have the option to set it and forget it.
It took about 30 minutes to set up and I was pleased with the ease of operation. Set the temp, set the time, add water and wood chips and walk away. You can even use the bluetooth to monitor the situation from your phone. I particularly liked the meat thermometer.
That's when things fell apart.
The Bluetooth has a range of about 15 yards, if that. Which means it is virtually useless.
I don't like how small the grease trap is. It's ok for one butt and maybe a few smaller items, but multiple fatty meats would overwhelm it.
I don't like how small of a wood chip compartment is. Now, it is nice to be able to add without opening the main door, but I don't always use small chips. Sometimes I like to use chunks.
After three weeks and about five uses, it died.
I went out one day to smoke some meat for dinner. As I set the temp and time, the digital readout said the internal temp was 310 degrees. Obviously that was incorrect and I noticed that the heater wouldn't turn on. I turned it off and even unplugged it. Eventually, I did some research and found the truth: the controller on these units is renowned to fail and it is a complete and irreversible failure.
According to several websites and forums, the venders such as Academy and Sam's have known about this issue, which stems from a cheap controller their sourced from overseas. Instead of pulling them off the shelf, the vendors had decided to sell the remaining stock, forcing buyers to bring them back.
Another option was for the buyer to contact Masterbuilt directly. However, Masterbuilt's solution was to send repair parts. These repair parts were not modular and repair apparently meant disassembly of the controller including the power cord and resoldering it. In some cases, this had caused some electrical fires, for which Masterbuilt would not be responsible. In addition, it might take weeks or months to receive the repair parts.
Owners were encouraged to simply return them and get their money back, if they had the receipts. Because mine was so new, that wasn't an issue. Since Academy didn't have a replacement (at the time, other than another 40-inch unit), my dad simply got a refund. I took the refund and bought the 30-inch version from Academy. Soon as I have a more complete picture of how it works, I will let you know.
Until then, this unit is one that should be avoided. I know of many people who have it and have not had any issues with it, but it DOES have a high failure rate which will likely leave you stranded.