As the pre-tournament meeting drew close, I was very up-in-the-air about how to approach fishing it. Did I want to bring a ringer....someone that knew how to ledge fish? Did I bring dad to fish plastics on shallow transition zones and get my guest pass back? Did I go through the draw...as a boater or non boater? I still had questions about the integrity of the motor on the boat, and just to make sure it was running right, I took Alyse and the kids, Josh and Emily out on the boat after our softball game on Thursday night.
Since it worked well, I knew I wanted to enter as a boater. I decided that the ratio of boaters to nonboaters left a good chance that I could draw out and bring whomever I wanted to without burning a guest pass. It didn't happen that way, but I did draw Jack, the Tournament Director for the club. Can't go wrong when you are fishing with the guy that runs the weigh ins, right? This was decided to be a 3 fish tournament and run from 5-1pm. 10 boats entered it ,with standings for Angler of the Year VERY tight! I entered at 3rd in the standings, back from the leader by 5 points. This was a must win...or at least a must keep Mark from winning, else he would be hard to catch down the stretch!
Again, with the weather hot, ledge fishing was sure to be a factor. But I just don't know how to do it. I can't fish water deeper than 10 feet. I want to learn, but learning during a tournament is a recipe for disaster!So, Jack and I came up with a game plan:
We would fish shallow in Mink Creek, a place that I had done fairly well in, hoping to get a quick limit. Factor into that, at least 2 MAJOR tournaments: The TOC Coaches Kick Bass tournament, plus several other large scale tournaments, and it would be tough to fish water that hadn't been fished. So, I hoped that our first spot, 500 yards from the ramp, would produce.
We ran the short distance into Mink. I started with the Sammy, hoping for a quick top water bite. Jack threw an assortment of lures, including Skinny Dippers and a Pop-R. I bagged 3 fish within the first hour, but they were ALL short. Right at the 14.5 inch mark. The sun started coming up and it became evident that we might be in trouble, even at 630-7am.
Already, the gears were turning in my head as I heard literally hundreds of boats screaming down the river. I hadn't thought much past fishing Mink. If the bite were indeed deeper, I didn't have a chance. However, I did think....what if I could find some REAL shallow spots within 30 yards of deep water, which may not get fished much? With the rain having past the night before, perhaps the fish were tight to cover and shallow....having been driven up from the ledges. But where would I find an area with cover, in shallow water, adjacent to deep water? I thought of a place that I had success early in February, where the fish were trying to escape the deep water to come shallow to feed. I had alot of success on this spot, which I hadn't seen many boats fish.
I also knew there were some drains coming out of the rock retaining walls. Whether its a cold lake with warmer rainwater coming out of the drain, or a hot lake with cold water, I always seem to find fish on these spots. So, I cast to the drains. I was still throwing the Sammy...which had been the only bait that had worked thus far. You may recall that last weeks tournament, a bad tie on my part cost me the first place and my favorite Ghost Sammy. I couldn't find a replacement, but Dick's had there for sale for $12. I had swapped the front hook for a VMC red #4 on the front and was fishing on braid.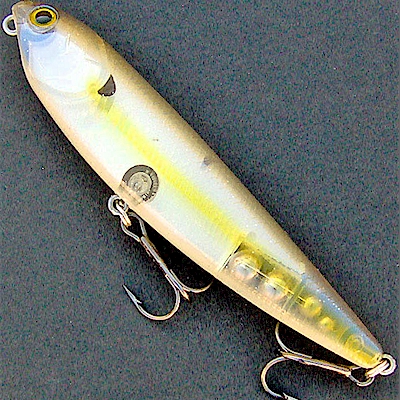 First cast, nice keeper. Finally, we had something in the live well. I targeted the second of the drains and cast to it. Twitch Twitch Bang. But the fish short struck it and I couldn't get it hooked up. But...maybe we were on to something. I put the rod down and picked up my swim baits, hoping to get a second chance bite. Nope.
As I stared at the sky in anger, I noticed the may fly hatch. They hadn't been there when we started...it was like they JUST hatched! The fish started hitting topwater around us, but I couldn't get them to bite. And why would they when they have a free meal! I did catch another short fish. So, we left the spot with one good fish in the live well. Out of too many options, I headed to a ledge that I had penciled the night before. It was close to an old honey hole, so I thought...if I can't catch the ledge fish, at least I can waste my time where I have caught fish before. We motored over to Church House.
I fished the up river most island on a really nice looking ledge. The Hummingbird 798 with Side Scan was marking fish like crazy!
I threw mostly a t-Rigged brushhog, but threw the crank bait a little too. Not much luck. But, we did have some excitement when a boat cut us off. I don't mean they went around us to get to a spot first, they went under us...right where we were casting...like we weren't even there. Same boat did it to other members of our club too.
So, frustrated, time running out, I thought the best chance we had at filling 2 more slots was in shallow water. So, we motored over to the lower most island, where I had caught a lot of fish. We made a pass quickly, moving from the lower most island, to the middle little island, to the upriver island. The only thing I caught was a nasty gar! I was really excited, as I thought I had a bass who was wrapped around a log. Turns out, it was just a 2 foot long gar....I didn't show him mercy as I retrieved my lure.
It was 12pm now, with an hour to go. One fish in the livewell. We motored back down to the lowermost island, fishing the little cove on the backside. I cast the sammy shallow, up against some reeds. BLAM! Big fish hit it. I had him on until it jumped and threw the sammy about 15 yards. I had Deja Vu of last week. All over again. At least I hadn't lost anything that time around......
I threw a little more to the middle of the cove and within a few casts, had a hit with a solid hookup. It was a measuring fish, but as soon as I had it in the boat, I knew it was in trouble. It was bleeding bad. The lower hook was sank in the underside of the gills. I went to work trying to save the fish, taking off my Costa Del Mar Zanes.
So, I did the best thing I could do. I picked up the rod and cast it. At the time, I thought about how asinine it was that I was throwing top water, on a clear day, at noon, in 90 degree heat and 85 degree water. But, hey, if it works....
And it did. Quickly caught a GOOD fish...I estimated at the time that it was between 3.5 and 4 pounds. We drifted to the center little island...1215 on the clock. I threw tight to cover...literally into the downed trees from the Tornadoes...and was rewarded with 2 identical fish. Suddenly, I didn't feel so bad.
About 5 minutes later, on a similar cast at a downed tree, I came up with a monster.
"Money fish!" I yelled at Jack. I prayed that the knot would hold and it did. We boated it, threw it in the front live well. with 45 minutes to weight-in, I told Jack that I would continue to put him on the fish, but I was going to concern myself with the health of the fish. I iced them, and we decided to head in early.
I thought I had no less than 12 pounds in the livewell. Although I was happy to say I culled all 3 fish so late in the day, I knew that one big fish would undo everything we had fought for all day. I watched the guys weigh in and listened to their tales about it being tough. These guys are terrific fisherman, but the sacks were coming in small. It wasn't that the fish were small...it was that they were skinny.
We weighed in our fish...coming out with 8.82, which was good enough for 1st! The next weights were 7.14 and 6.81.
The competition for 3rd was amazing, as three different boats had 6.81, 6.61. 6.43 respectively! But I just couldn't get over how skinny the fish were. Like I said, I didn't think we had anything less than 12 pounds! And that 5 pounder I thought I had....3.34 pounds!
So, I am back in the mix for Angler of the Year, although I don't know how. I am sitting in 2nd, but my luck won't hold THAT long. These guys continue to amaze me. Sometimes you join small clubs so you can be the big fish...well, we have nothing but big fish in this club, but I wouldn't have it any other way!
I believe that I caught 11-12 fish. 5 of those were short. I culled another 3-4. All fish were caught on a Lucky Craft Sammy.
Here is where my keepers came from: