You may recall that, a few months ago, I fished with Buzz. At the beginning of the tournament I warned him that I threw my crankbaits wherever the fish might be. Into trees, into stumps, didn't matter. And because of that, I get hung up. A lot.
Luckily he was patient with me. Even more lucky was the fact that he had a plug knocker. That day, I used it 8 times with a 100% success rate. Folks, that saved 50 dollars.
So, I finally bought one because I guestimate that I loose around $1,000/year in cranks. That's about 150 cranks.
I bought one from Tacklewarehouse (who won't give me any sort of sponsership although I plug them CONTINUOSLY!....HAHA)
I bought the Jewel Bait Hound. It's about 8 bucks and doesn't come with rope.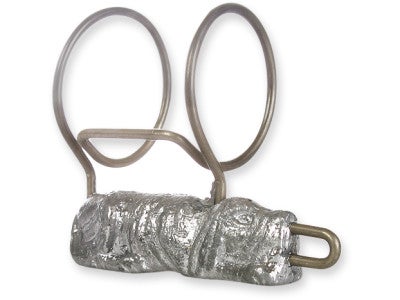 I used a bit of that NASA engineering.....and outsourced. HA! I bought a retractable dog leash with 25 feet of nylon rope.
I used it once so far. Got my bait back! Paid for itself already! Go get one. Now.