Like many fishermen, I have a contradicting problem. I want to own 2 dozen rod and reels....one for each specific bait and/or presentation. I love great quality, but I am on a budget. I have used everything from custom built rods to bargain basements and everything in between. I currently have rods from a dozen different manufactures because I am willing to go out on a limb and try new things.
Though I definitely know that you can get what you pay for, I have discovered that I can generally get what I want for $100. But, when you have 2 dozen or so rod and reel combos, that $100 rod, plus the reel, can add up very quickly. Each rod and reel combo costs a minimum of $200. I simply will not spend less than $120 on a reel. So, I have to look elsewhere to save money.
I had tried several other brands for under $100. For example, every once in awhile, you can get a Wright&McGill Skeet Reese rod for under $100. It's a fine rod, as I have done a product review on in the past. However, when they DO go on sale, they generally sell out of everything useful. Additionally, they didn't have all the qualities that I would really like.
On the other hand, you can find St. Croix Triumph series rods,
which I also reviewed
, for $75 and in every combination of length and action most anywhere. But, they don't have the amenities that I have become spoiled to with high end rods.
If you are willing to spend more (as in double) you can get into a Duckett Rod,
which I reviewed
.
For a rod in its price range, you would have to compare it to the St. Croix,
which I reviewed here
.
Enter the Ethos rod from H2O XPRESS. Here are some pics of them and the details from the
Academy Site
.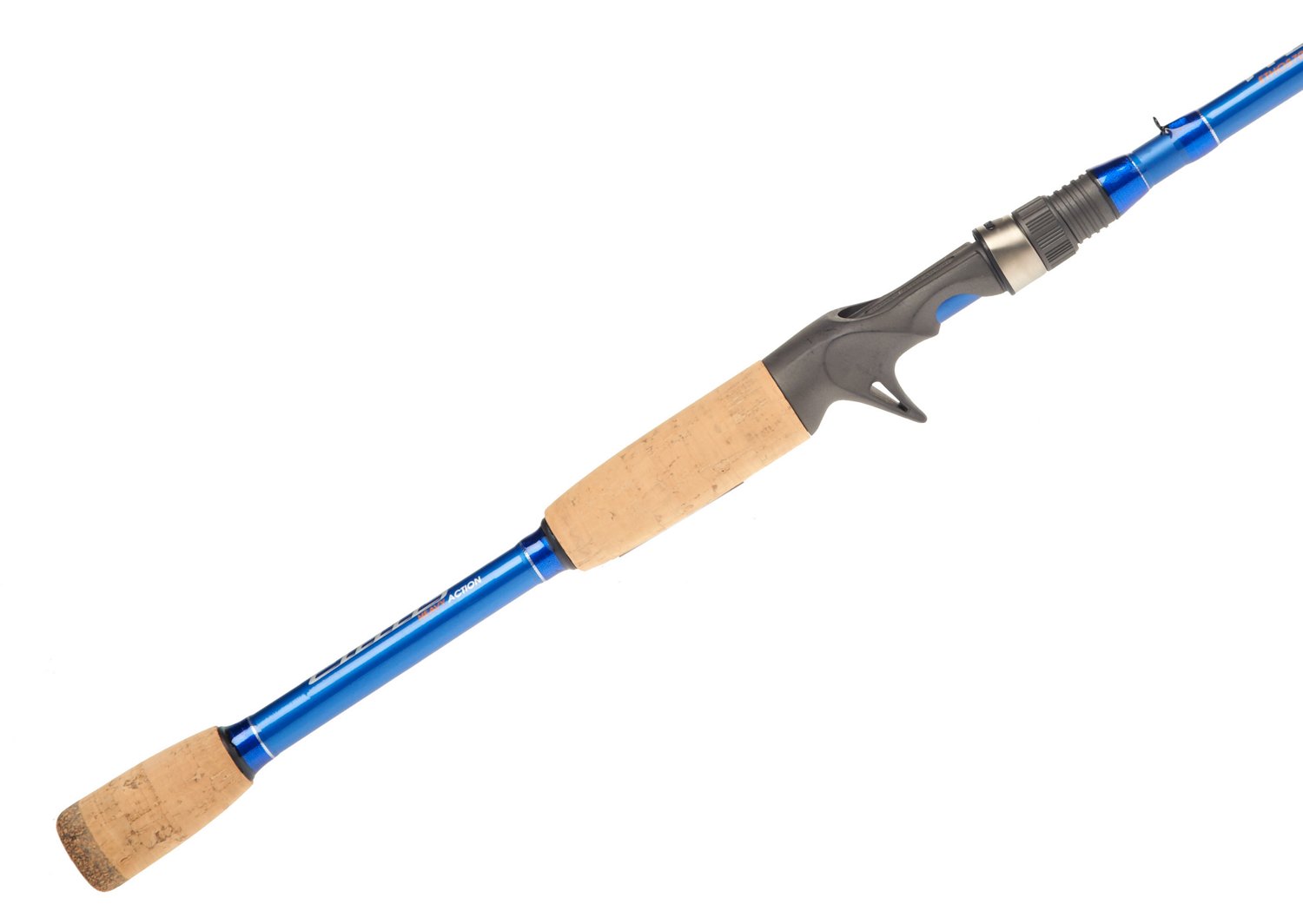 "Catch a few big ones with the H2O XPRESS® Ethos 7' M Freshwater Composite Crankbait Casting Rod. The graphite and fiberglass composite blank offers light weight and strength, and the 10" split-grip handle features a cork grip for a comfortable hold. Nine Fuji Alconite guides plus the tip ensure smooth line control and movement, while the powdered cork butt cap offers leverage while reeling in large fish. Fuji ACS reel seat. Medium action. 1-piece design.
Features and Benefits
- 1-piece graphite and fiberglass composite blank is lightweight and strong
- 10" split-grip handle with a cork grip offers a comfortable hold
- Powdered cork butt cap helps you reel in fighters
- 9 Fuji Alconite guides plus the tip provide smooth line control and movement
- Fuji ACS reel seat
- Medium action for steady response"
I am usually wary of store brands. I have bought the store brand from Dick's and from Gander Mountain several times. They seem to vary in the quality of the rod, as in, one 7 foot medium heavy fast tip will act differently than the next. Their heavy actions are usually too heavy and their light action is generally too light. After my last round of store brand purchases, I was ready to do away with them completely. However, I had a gift card from Academy from Christmas and I had lost (at the bottom of Pickwick) my custom built frog rod. I had bought several different rods to replace it, but they were generally too heavy, the handles too long or short, or a combination of other various nit-pickiness of mine.
But the moment I picked up the H2O XPRESS Heavy Action rod, I was sold.
The action was perfect, as I rolled the tip on the floor of the store to locate it's spine and over all action.
The rod was very lightweight, which is extremely important for someone who frog fishes for the entire day for months on end.
The handle length was long enough for me to brace against my side, if I needed it, but short enough that I didn't jab myself constantly while working a bait.
The micro guides cause a very accurate and smooth cast, which was a wide departure from most other cheap brands
I love the split grip. It balances the rod perfectly, making it easy to work the bait.
Aesthetically, this rod is amazing. The rod color and thread work are spectacular, which is normally not included in a cheap rod.
THE BEST PART? How about UNDER $70!
I have owned this rod for several months, on top of another medium heavy I bought. The finish has held up extremely well. The rods have lived with me bouncing back and forth between different boats. For $70, it cannot be beat. This rod performs excellent and looks even better. Honestly, I don't know how they produce such a well performing and good looking rod for $70!