While on a trip to BPS a few months ago, I was looking for a high gear ratio reel to use on my frog rod. I want the ability to wrench a fish on top of the grass and keep him there. BPS Extreme Baitcaster comes in a 7.1:1 ratio.
http://www.basspro.com/Bass-Pro-Shops-Extreme-Baitcast-Reels/product/103926/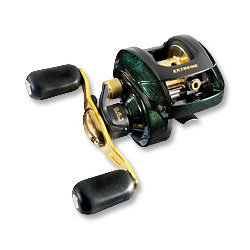 I have to admit that I was concerned about high ratio gears and their relative strength. But, I figured it was worth the cash. BPS, at the time, was offering a rod and reel combo for something like $120 bucks. I did need a worming rod, but all they offered was a 6 foot 6 inch/baitcaster combo. But, the man working the reel counter happily set me up and told me he would fix any combo I wanted for the same price.
Anyway, I purchassed the combo, split them, and went about my buisness.
On the first trip out, I broke out the frog rod with the new reel on it. First hit I had, I set the hook and the drag wouldn't engage. The fish came off and I dejectedly reeled it in. I thought maybe I just didn't have the drag set right. Maybe I had it loosened all the way.
Nope. The friction disc was messed up and wouldn't engage at all.
I am sending it, my BPS Extreme spinning reel( you can read the review here:
http://www.blogger.com/blogger.g?blogID=7892342121119950405#editor/target=post;postID=3757398467176246416
)
So, one trip out and she was finished. Hopefully, I just have a bum reel and the next one will work. We shall see. But, until proven otherwise, I am 0 for 2 with the BPS Extreme stuff.