Years ago (I don't know when), my parents were invited to come visit our church friends while they stayed at Doublehead Resort on Lake Wilson. You can find their info here:
http://www.doublehead.com/
They decided that they wanted to make this an every year event as well, so they booked it last year. I didn't get to stay but one night, and while it rained the entire time, I certainly enjoyed the company and location. It was too bad that it rained because I didn't get to fish any and I really like Wilson. Always do well on that lake, which is funny, because it's the redheaded step child of the TVA lakes. But, honestly, it's the only lake I have fished on the chain where I have never struck out. In fact, most times, I catch a lot of fish. And, it's probably the EASIEST lake to catch a good mix of both smallies and large mouth.
This year, the family and I planned on going, especially since my sister and her husband would be coming as well. From the beginning, however, weather was a concern. With the aftermath of the hurricane moving up land, I was concerned that it was going to rain the whole time....again.
Friday rolled around and we packed the kids up. Doublehead is only about 1.5 hours from the house and, despite the rain, it wasn't a bad drive. Mom and dad were already there and my sister and brother in law would arrive late that night.
After unpacking, dad and I took my two oldest kids out on the boat for some fishing. Between their two poles flying around and the Gail force winds, it became a tedious affair. Besides, dad had to cook dinner, so he let me drop them off and go looking for the fish.
I broke out the map and consulted it. I had never fished this end of the lake (it's almost to the Wheeler/Wilson dam). Right off, I fished a secondary point where Town Creek sweeps back towards doublehead. Nice 15 foot point with grass on it. The Hummingbird marked fish. I started shallow, flipping the scattered grass, but no takers. I pushed out a little deeper and didn't catch anything, though I have a feeling that the spot would be good. Yet, the wind was terrible. I needed to find something to shelter me, so I found a point at the entrance of Town Creek (where Doublehead is located) that featured a rock bank and a sweeping channel that ran parallel to it. So, I made the short run to that point. I cast across it with a variety of cranks. Started with the strike king series 3 in citrus shad. Pushed deeper with the Spro Little Jon DD.
Still no luck, and I wasn't really seeing and fish on the Hummingbird. Consulting the map again, I noticed a little slew, just a few hundred yards down lake from me that looked promising. Fired the old Johnson up and made the short run. The slew was deeper in length than I thought and had several boat houses on it. What I did like was the concrete retaining wall on the upriver side of the slew. Working it with the crank, I crossed the point, marking fish and chunk rock in 15-22 feet of water. For some reason, I didn't After working the upriver point, I proceeded to the other side. There were the remains of some concrete spans a few feet off the shore. I started out throwing a shakey head and started getting bites, but they were from bream. Swapping back to the Little Jon, I bagged a small fish. Thinking of my children, I tossed him in the livewell. They love nothing more than to watch a bass swim.
On the next cast, I was retrieving the lure and as it came up out of the gloomy water, a massive bucket head came after it! I hit the brakes and he slammed the lure. I had no more room to reel, so I tried to horse him aboard, but when he hit the boat, he shook the hooks out. It was a monster! But, he hit the boat, and house rules say that if it hits the boat, it counts!
About then, the call for dinner came, so I ran back to the cabin for a scrumptious dinner.
After dinner, my mom, wife, and older kids wanted to take a ride. Naturally, I obliged, and I wanted to show them where I had been fishing. So, I ran them to the spot. Naturally, I couldn't help but cast a line a few times. I bagged a short fish on the DD, then another keeper that shoot off at the boat. It didn't just shake off, but threw the hooks at my occupants, so, I decided to put that down and picked up the sissy stick.
Tossing the shakey head around those concrete spans, I was getting TONS of taps, but no fish. They wouldn't take off with it. So, on the next cast, I waited until I could see the line moving. Setting the hook, a little perch came FLYING at us. If it isn't hooks, it's fish!
But, it provided a little opportunity to show them how beautiful perch really are!
Looking up into the sky, i could see a big ole full moon. That explained the feeding of the perch, at least to me. They were feeding up so they could go into hiding all night to escape the gorging bass.
Of course, that was a bad thing for me, as I had a tournament the next morning on Wheeler (will post about that later).
So, I fished Wheeler with the club that Saturday. Watched my Auburn Tigers lose...Sigh....Slept in Sunday morning from shear exhaustion. Hung out with the family and church friends all day Sunday. But Monday morning...finally...dad and I got to get some fishing in.
We woke up early and I ran him to the spot I had been fishing. I started us a little upriver from where I had been fishing. I picked up my Lucky Craft Sammy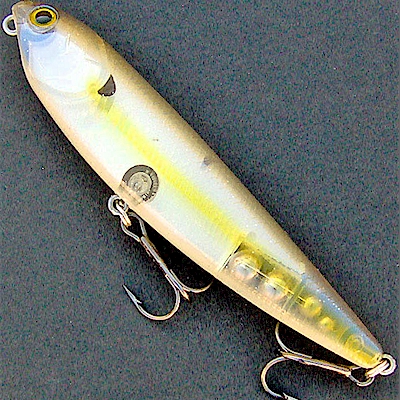 First cast, had a hit. Didn't hook up with him, though. Few casts later, cycle repeated. Meanwhile, dad was throwing a Rapala Rat-L-Trap....and slaying them with it! Of all things, a rattle bait was the LAST thing I expected to work. I didn't even bring any with me! He even managed to pick up a smallmouth with it. That bite didn't last long, but he did managed to catch something like 6-7. Giving up on the Sammy and the Crank, I went to the shakey head again...convinced that I should be able to catch something on it. Caught a few short bass, but nothing major. Then I caught this little guy:
Now THATS a small smallmouth! I finally did catch a few measuring fish, but before we knew it, it was time to start packing. So, we took the nicer fish to let the kids play with them.
After we packed up, Alyse and I deliberated on if we were going to take the boat to her aunts lake house, down on Shoals Creek. Of course, I was ALL for it, as long as I got to fish. But she didn't want to be out late which meant a late afternoon fishing trip wasn't going to happen. We compromised and decided that we would take the boat and leave around 7. However, the boat was on empty, which meant I had to put more gas in it...sigh....but I did it anyway.
While everyone swam and jet ski'd, I cast a line where I had caught a NICE spot a few trips back. But, my BPS spinning reel seemed to be having problems...seizing up....and after awhile, it gave up the ghost! Ugg...if I don't loose it, I break it. Looks like BPS will be getting TWO reels in the mail!
Later in the afternoon, our family members flipped a jet ski and I retrieved it in the boat since it wouldn't restart. After thinking about it, I noticed that we were out of gas. Already. There wouldn't be much fishing going on! Man...where did that 6 gallons go? I know this boat isn't good on gas...but dang!
Late in the afternoon, Alyse and her sister Hannah wanted to go out on the boat and fish. Packing along Griffin, we headed to some of my spots. First spot we hit was one of my favorites. A point where Shoals creek bends back to Brush creek, complete with a grass lined point. Initially, it was rough going. No bites. But, we started seeing schoolers busting. After I caught a few (including a drum) on the series 3, I handed it off to Alyse, who then caught her first crankbait fish!
She backed that up with this guy
She even caught a few more! I was VERY happy about that. Sadly, I couldn't catch any and neither could Hannah. When the schooling died down, we headed towards my magic spot.
As we pulled up, I could already see bait balls everywhere. So many that I managed to catch this guy!
Finally got on top of the spot and went to town on them with the Little Jon DD. The Little Jon DD is probably the only crank that works on this spot because it will reach down to that set of rocks in 18 feet of water. Not only that, but it gets there quick enough that I can keep the bait in the strike zone longer. Let me tell you, you really have to work to get that thing where it needs to go. I would wrench on that thing, kneeling and reeling, until it hit the chunk rock. You didn't always find it, but when you did...they would kill it. First one I hooked into went to the surface and jumped 3 feet in the air, throwing the lure. It was picture perfect! I didn't mind loosing him to see that happen! Few casts later, caught this guy

Not a monster, but a SOLID Lake Wilson fish! Few more stragglers and it was time to head in.
Here are a few more pictures of the weekend, since it isn't all about fishing!