I know you were all just DYING to hear what the Taylor's were up to this weekend, right? I mean, a Monday wouldn't be complete without you taking time out of your day to read about ours.
The weekend kicked off on Friday night.
Monrovia Parks and Recreation
held their family night to celebrate the kick off of sports for the year. They really wanted to do it up this year! They featured a live band, free hotdogs for the kids, a number of inflatables, and a GREAT fireworks show!
I admit that I initially rolled my eyes. I just KNEW I would spend a fortune at feeding myself and Alyse. Plus, Griffin doesn't eat hotdogs. But, to my surprise I spent $12 on 3 bacon cheeseburgers. Not bad! Now, I did have to wait in line for over 30 minutes because I decided to use the wrong line.
There must have been a THOUSAND people at the park! And, I could see why! It was good, safe, American fun. We are pretty protective of our children and it was nice to be able to tell them "Take off. See you at dark." While Aubree played with her softball friends, Griffin decided he wanted to dance to the music of the live band. And so he did. For hours. But, hey, they kept saying they wanted people to come up to the stage. Apparently Griffin was the only taker, which was probably why they decided to pull him on stage.
I was amazed at how he wasn't shy. I guess it's because he has been in front of the microphone before.
And, ironically, when they asked him who he was, he responded with...
"I AM IRON MAN!"
and proceeded to give everyone a repulsor blast. PEW PEW PEW! At this point, he probably thinks he IS Iron Man.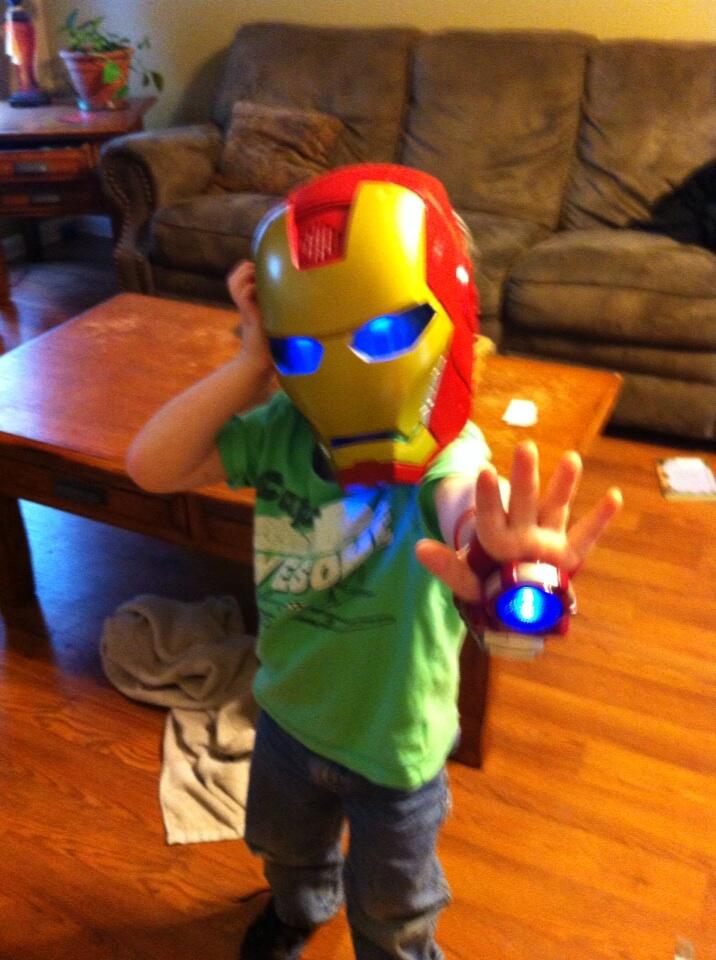 Gavin managed to beg for food like a little lost puppy to everyone around him, and most of which obliged him. Hey, it saves me money. And he isn't picky, so it works out GREAT!
When the fireworks started, I had to hold Aubree's hand. Not because I am sweet, but because she is a pansy and was holding her ears. I admit that I was the same way as a child. I hated loud noises!
No, this isn't my kid. It's my friend Jamie's. But, my phone was dead and she managed to take pics. Anyway, thanks Jamie for letting me borrow a pic.
It made for a great, but very long night. It was hard to get up and get going the next morning, especially when I had already gotten up early the previous morning so that I could go prefishing. I managed to get to Guntersville, do some looking around, make some notes, then completely ignore them all. But, the MFC Tournament #1 went decent enough.
Go read about it
, if you like. Cliff's notes...we won a check. Barely. But, we are on some fish....so maybe we can do well this coming weekend. I mean, the trend says so. We didn't do well at
Eagle's Wings
, we get 3rd on Guntersville....now it's time to win! Yeah right. Can't win my own club.....But the check was sent and I am committed.
Alyse had a full day of her own, and by herself. She attended the "Lead me to the Cross 5K" and managed to get a little shopping at Lowe's done before she had to get the kids to and from ball games. It was Griffin's first game! His uniform swallows him!
Aubree and Griffin both lost, but they played well. Griffin managed to get some good stops in the outfield and score a few runs! They gave him the game ball! I don't know if it was because he played so well, or if they doubted he would be able to have an impact in future games....the jury is out!
So, I get home late Saturday. And, since I didn't want Alyse to worry about cooking, I loaded them all up and we headed to Texas Roadhouse. After all, that $29 check I won was burning a hole in my pocket! Aubree and I shared a steak. The perks of having a carnivore of a daughter! I can get big ole steaks and not feel bad about it! Griffin and Gavin managed to destroy two baskets of rolls. I think it was the cinnamon butter. I sure like it.
On a sad note, my fishing jeans died today. Yes, I wear these every time I fish, but Saturday I had to do some stretching and managed to rip the crotch out of them. While I think they are perfectly acceptable, especially for keeping the Guntersville gnats out of my face (you will get it later) Alyse made me toss them.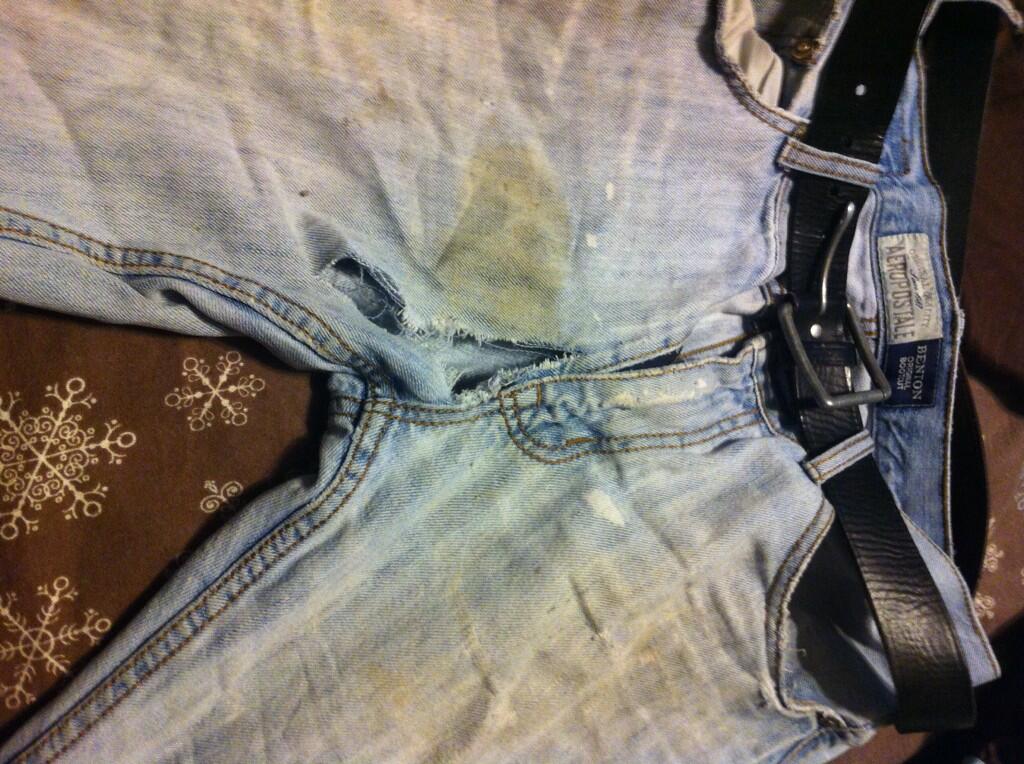 Yesterday, Alyse was asked to throw a baby shower for her cousin, and of course she was happy to comply. So, I got the privilege of taking all 3 kids to church by myself. I can't complain. My wife does triple duty all the time. And, the kids were well behaved. So much so that Griffin's teacher bragged on him twice about how he knew EVERYTHING about Joshua. Of course, Joshua is probably my favorite Bible hero. He did what God told him to, all the time, and was a mighty warrior. He conquered a whole region. Anyway, that's off topic.
After Church, Aubree went to the shower and the boys and I went to Dick's. You may recall that I snapped a rod at Eagle's Wings. Well, I am cheap. And convincing. So, I bought an identical rod, a service plan, and planned on returning the busted one. Don't judge. They did manage to sell me 2 other rods because they were buy 1 get 1 half price. So, ease up there. Besides, they owe me. They didn't give me a custom Skeet Reese jersey with my purchase. Rats. I like to mess with Josh by wearing one that I already have. It ticks him off something fierce.
We had a lazy afternoon of watching The Incredibles, which is becoming one of Griffin and Gavin's favorites. Don't tell anyone, but I love it too.
To top off the weekend, I cooked some venison tenderloin. I marinated it in Dale's for an hour, then paired it with my world famous mashed potatoes and lemon pepper carrots. Fantastic!