Surely most of you have read my posts about Eagle's Wings and the benefit tournament they throw each year. I was a little more involved this year after being recognized last year via this blog. Basically, they read my report on the tournament and asked to use it in the local newspaper. I was happy to help. You can read about that here:
http://best5zach.blogspot.com/2011/11/best-five-zach-makes-it-into-tuscaloosa.html
After that, we kept in touch. So, this year, Ms. Becky emailed me and asked me if I would help advertise it on the blog. Sure, I would be happy to! In exchange, I was able to register on the first day and secure our (Uncle Tony and I) as boat number 1. We would need every bit of the help we could get in getting to the spots first (that's a zinger...since we would be catching spots from his magic spots).
One of the highlights of the fishing year has been to fish the Eagle's Wings Benefit.
http://eagleswingsoftuscaloosa.org/
http://eagleswingsoftuscaloosa.org/fishingforamission.html
Here is what they are all about:
Eagles' Wings, Inc. is a non-profit organization that provides day habilitation services for adults with mild, moderate and severe intellectual and physical disabilities, including those who are medically fragile. We strive to provide a wide array of services to meet their spiritual, physical, emotional, social and vocational needs. Our primary objective is centered on happiness for each individual in a respectful, secure, nurturing and structured environment which maximizes potential for independence, productivity and integration with the surrounding community.
As you can see, it's a great cause. It has been a lot of fun and I get to fish with my wife's uncle Tony. And, we get to spend the weekend down there with her family. That's a big deal for her grandparents and great grandmother, since we have 3 kids that they don't get to see very often.
This year's tournament would be a little different, specifically the location, which was moved from Lake Tuscaloosa to Holt Lake. At first, I was a little worried, since Tony and I had done so well on Tuscaloosa together. We had fished 3 tournaments together and taken home good checks in each.
So, a few weeks ago, Uncle Tony started calling me. As luck would have it, he has fished Holt almost as much as Tuscaloosa. He had 2 good prefishing trips and 2 bad ones. The good trips were REAL good, producing 20 pound bags. The bad were REAL bad...though his definition of bad and my definition is different. I guess that when you get 25 years of experience, you can always catch some fish. Being a learner, there is no limit to how bad a bad trip could be.
So, Thursday night before the tournament, he called me to tell me what to rig up. A deep diving crank, a lipless rattle bait, a jig, and a topwater bait. Not having any confidence in the jig, I asked if I would be ok with a shakey head. He said, sure....but to not be surprised if I only catch half as much as he did. HAHA!
I really wanted to try out some new things, especially the new Spot Remover Magnum shakey heads.
They feature a heavier gauge hook and a longer shank. Anyway, Aubree had a soccer game Friday night, so we arrived late on Friday night. I didn't get a chance to see Tony, but we spoke on the phone and set up times and strategy. He expected a tough day, since there wouldn't be any current and we would see high skys. We would start shallow and gauge the bite, then hit the ledges. He had hoped that the current would be on, and therefore, the bite would be active and we could use crank baits. But he was already preparing for a grinding day of throwing jigs on ledges. Something I know ZERO about. I have caught a grand total of 2 fish on a jig....and those were in 2 feet of water.
We woke up just in time, got our ice and snacks, and hit the road. 30 minutes later, we had to boat launched and beached at the tournament headquarters. Man was it foggy! Because of the fog, blast off was delayed. So, I enjoyed the great conversation with the locals and the free coffee and Krispie Kremes!

Soon enough, we blasted off....Boat Number 1 is on the case!
Because of the fog, we didn't go far....and neither did most people. I was worried that we would be at a big disadvantage, but Tony said that we weren't, especially considering how many boats were locking up...and down! Whew!
So, we got to work. He was throwing a Strike King red eye shad lipless crank while I thew the Xcalibur 12-Knocker in Sexy.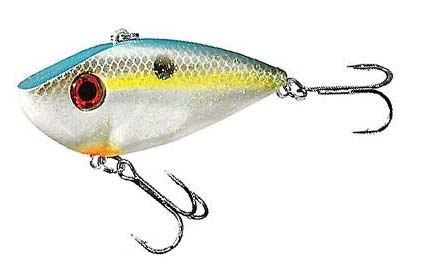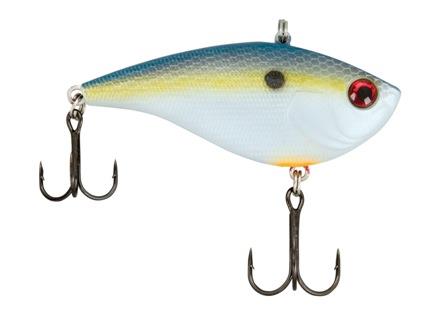 Now, it wouldn't be a tournament if I didn't lose or break something. In this case, my Boyd Duckett Rod had suffered a series blow and the tip had the Teflon insert knocked out of it. It was shaving the BRAND NEW Seguar line....UGH! Tony bagged two short fish. I bagged one shortly after. I picked up the Sammy and tossed it around some grass lines, picked up one short fish and one that measured. But, we tossed it back. Tony said that if we had to worry about keeping fish that small, we wouldn't be winning. He had a point.
The fog lifted around 9 and we finally got to get on his posts. As usual, I had in my mind how we would be fishing. When he had said "ledges" I had expected rock faced bluffs. When he cut the motor in the middle of the lake...I was a little confounded. Even more so when I saw the depth....28 feet. He picked up the jig and tossed it. I threw my Spro Lil John DD. On his first cast, he snagged a keeper. I worked the net for him and boated our first keeper. A solid 1.5 pounder. On his next cast, he hooked another. I netted it. I picked up the shakey head and tossed it as far as I could...and had a hit. Worked the fish towards the boat, and he simply spit the bait out. I realized why. I had thrown the shakey head as far as I could. The more line you have out, the more stretch it has. The finesse rod I was using simply didn't have the strength to snatch a hook through the lips of a fish 30 feet down and 30 yards out. At the same time, he boated keepers 3 and 4. So, I got smart...even earlier than I normally do...and tied on a jog, though I had no confidence. I tied it on to a St Croix 6'6'' medium heavy rod and a Shimano Citica reel. But, even though he was now catching small fish, he was still catching fish. And I wasn't getting hits. We were literally throwing the same Strike King Hack Attack finesse jig backed by a Netbait Paca.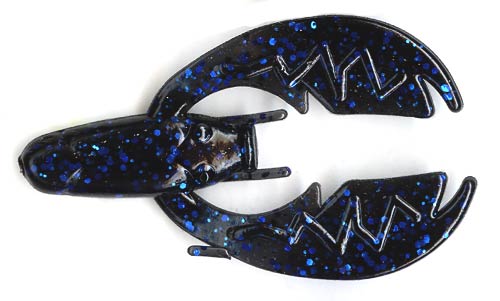 So, I sat down and watched him. It didn't take long to figure out what I was doing wrong. I was throwing the jig out and keeping tension on it the entire time. Which, all that did, was to keep it from going to the bottom. Problem number two was that when it DID hit the bottom, I was averaging 3 casts to his 1. So, I slowed down. Furthermore, he told me to "feel for the trash". We weren't just fishing a ledge. We were fishing a ledge with log jams on it. When I found the trash, he said to dead stick it. Just let it sit there and jiggle it. So I did. And the spots started THUMPING it.
Suddenly we had a limit. Not only that, but we started consistently culling up our limit. I am proud to say that I kept up with Uncle Tony! I just needed him to show me where. And how. And with what. HAHA! Then it got slow and we had a decision to make. I wanted to move, but his experience shined through. He knew that if we moved, any of the hand full of baits that had been running up and down the river would notice that we hadn't moved all day. Or, they might even see us catching fish. In 2 instances, a boat pulled up, watched us, graphed us, then left.
Then the fishing went to a crawl. So, we kept crawling our baits. We had 3 squealers in there we HAD to get rid of. That's when I made this discovery: As I crawled the bait through the trash, I hopped it. And a fish CRUSHED it, but then took it right into the log pile. About the time I said "he got off and I am stuck" I popped the bait free and another fish hammered it. Worked him to the surface. As the fish jumped and tried to throw the bait, another one jumped behind him! We netted the fish. A good cull. Tossed the littlest squealer back in the drink. It took me a few more casts to find the trash again, but when I did, I popped the bait off the brush pile and one would slam it. The day drug on, but we culled. And culled. And culled some more. An ounce here. 2 there. But we couldn't find the big one we needed. And we knew we didn't stand a chance without a 3 pound fish. None.
So, we resigned ourselves to defeat, though we gave it our all. We decided to head in early and enjoy free hot dogs. We were the first boat in, though word had already traveled around the headquarters that half the boats had gone home already. One of the weigh masters asked us what we had and we told him we thought we had 10 pounds. He looked excited and said "That will take a check!" Surely not.
So, the boats rolled in. We weighed in. 9.2 pounds. That wasn't going to do it. But, the boats came in and the bags didn't. Boat after boat turned in their card and didn't weigh a fish. I walked up to the weigh board. We were in 2nd behind an 11 pound sack. That would be a $1000 check! Whoot!
Then, the weighmaster called for any more boats....and nobody was coming forward. It was over!
We were getting a fat check.
Almost....
Turns out, people love to grandstand. 2 more boats weighed in late, both coming from the same place...up by the dam. Both weighed in 12 pounds. But I wasn't too upset. We took 4th! Our streak of checks continues!
As you can see, our biggest fish was 2.2, though we had 9.2 pounds total. The other 3 bags ahead of us had fish over 3 pounds. Had we had a fish that big, we would be right there. We had the best average out there. Just couldn't find that magic fish! Once again, the volunteers were the real highlight. They are super nice and courteous, not to mention the job they are doing both that day and every day. Props to them. And props to Eagle's Wings for another fantastic event! We ended up catching at least 25 that we could remember...and enough to do this to my fingers!