Men get a bad rap for not asking directions when they are lost.
Engineers get a bad rap for not following instructions.
Since I am a male engineer from NASA, that would just about make the worst kind of leaner. Yet even I, in all my stubbornness can only take so much before I break down and ask for directions and follow the instructions I am given. In this case, I think we all know what I am talking about.
If you don't, let me lay it out for you with the dime tour. Guntersville has been a harsh mistress to me in the last year. I have had some OK days in the size department. I have had some OK days in the numbers department, but the fact is, that I haven't caught more than 5 fish in any one day nor had I caught a 5 pounder in the last year. That's unheard of for one of the most prolific "big fish" lakes. And for a guy that prides himself on being a "big bass" fishermen, it was painful. To the point that I refused to fish Guntersville.
That's where Jim has come to the rescue. You may recall my last post where I talked about Jim, so I won't go into all the history, but essentially, Jim has spent a lot of time on the Big G in the last few years. Like, 300 days a year.
He is trying to secure his reputation as a big stick on the G by using my blog, and I am using him to get me back on the right track. Now, don't take that the wrong way. We were good acquaintances before either of us decided to do this.
We have been out 3 times and caught fish all 3 times, but the going has been rough. Despite that, I have learned something each trip.
So, on this particular day, we met up with his friend Dusty, a 17 year old local who can flat out catch them. It was a perfect opportunity for me to have two good fishermen to video, learn, and maybe catch a few myself. I admit, thought, that we hadn't caught a lot the last few trips, so I didn't get my hopes up.
We put in at Goose Pond and visited with
The Bait, Tackle, and Grill at Goose Pond
. We were really looking forward to trying out Jim's care package from Spro, his sponsor, specifically the Aruku Shad.
As well as trying out the new Duckett Rods "White Ice", whom is also a new sponsor for Jim.
Here is Dusty and Jim reppin' the new Duckett gear!
We started out in North Sauty, hitting the backs of creeks real shallow with the lipless cranks. I decided that I would throw something a little slower moving, as both the other guys were throwing the same thing. I was throwing a Booyah jig in half ounce in blue/black with a Stanley Itzabug trailer. Ironically, I was using this combo because the Itzabug came in this months
Mystery Tackle Box
.
I spent most of my time fiddling with the Go Pro, trying to get the angle right, watching how much memory was being used, etc. And in the mean time, I would make a cast or two with the jig. Now, as yall know, I am trying to use jigs more. I have had success on all the other lakes I fish, but not Guntersville. Well, that streak came to an end as one THUMPED the jig. I slammed the rod and brought in a nice 4 pounder. Without any more luck in North Sauty, we packed up and made a run to Preston Island. There, each of the boys bagged nice 4 pound toads on the Spro Aruku shad. Best part is, I got it on video!
But, it wasn't the success the boys were looking for. So, we picked up and made a run to South Sauty. Originally, we were going to "junk fish". Maybe we could come across some stripe or whites, maybe even crappie.
One thing Jim does extremely well, that we should all learn to do, is to rely heavily on electronics. I don't mean just for depth, or for fish stacked in the bottom cone of the transducer, but to use sidescan, down imaging...all the tools, to find the sweet spots. And if they aren't piled up, move on.
But we did find some piled up. We had been patrolling the South Sauty causeway back and forth, over and over. I didn't mind because I knew he was eliminating water....a valueable method. Now, I always thought that meant by actively fishing areas and if you didn' catch anything, your moved on. Not so. You find the fish, and we did. So we started throwing spoons. Yet, nothing bit them. And that was where some more of Jim's experience taught me a big time lesson,

He said:
"If I can see the fish, and they aren't biting the spoon, it must be largemouth." That had me intrigued, so I asked him about it.

He said:
"Bass are the only fish that can be packed up like that and not bite. If it were drum, stripe, or crappie, at least a few would always be willng to bite."
So, we had the fish targeted.They started throwing Yum Yumbrellas, which is their Bama Rig backed by Reaction Innovation Skinny Dippers.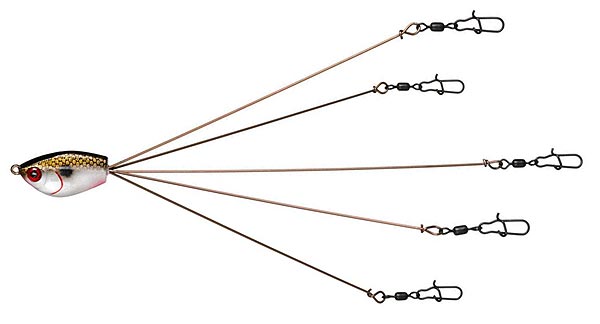 Once again, I thought I would throw something different and slow, so I again relied on the jig. But the wind was terrible and couldn't feel the lure, so I tied on a custom 1/2 jig head and put on a skinny dipper. Jim quickly bagged a NICE 5 pounder on the bama rig. But, after we reset, we noticed that the fish had moved and shifted in the water column...another thing Jim did with the sidescan. So, after 30 minutes, we were able to target them...this time low in the water column. Dusty bagged a solid 4 pounder. Reset, find the fish, and Jim busted out a 7 pound 2 ounce TOAD. Well, by this time the fish count was 3-3-1. I was getting aggravated. So, instead of targeting the area they targeted, out away from the causeway, I threw the jig headed swimbait to the rip rap, let it fall, and crawled it along the bottom.
One NAILED it. I wrestled it in, Jim lipped it, and I had a 5lb 4oz....breaking the year long streak! About 3 minutes later, I bagged another bucket head, also weighing in at 5lb 4oz.
That's when we knew we were on to something. We had a 7, two 5s, and two 4s. If we could cull those 4s, we had a terrific sack. While we continued to catch MASSIVE fish, we couldn't quite find the right one. Dusty did, however, catch a MASSIVE 4 pound spot!
And cull them we did. Jim hung one that tipped the 7 and change mark. I took in a 5lb 7oz. And there it was. 30 pounds. We quickly took pictures, released them, and hit the dock.
For the day, we caught 11 measuring fish:
5.9
5.7
4.8
7.2
5.4
5.4
5.2
4.6
4
4
3.9 SPOT!!!!
Here is what you all wanted to see! The vid! I apologize that I am an amateur...both at taking and editing...but I am getting better!