Watch the 6XD in Action!
Chances are, this product review is an exercise in futility. Pretty much any bass fisherman who does any sort of cranking has undoubtedly used a Strike King crankbait. However, the more involved I get into the sport, the more I find that the average fisherman isn't comfortable with fishing water deeper than 10 feet and virtually no one is comfortable in fishing open water.
A lot of the issue with fishermen
(or fisherwomen, such as my wife)
in fishing these areas stems from a lack of confidence in throwing a bait into an area that they cannot visualize. When they do take the chance, if they aren't successful, they usually give up quickly. After all, finding success is a multi-faceted process of first locating where the fish are holding. Typically, the fish are holding on a specific type of underwater structure. Through the use of properly dialed in electronics, a fishermen can pinpoint an exact area, but boat position and casting angles once the fish are located becomes key. Then it comes down to
selecting the correct bait.
It isn't as easy as picking up a shakey head, a jig, or a C-rig and tossing it right on the fishes head...unless you are already comfortable knowing exactly where the fish are and you have the confidence of using minutes per cast. While these techniques are abosultely deadly on these bottom-dwelling fish, most fishermen unsure of themselves in this water column will avoid these technique entirely.
Crankbaits, while already a bait that is a fish favorite, is one of the best ways to catch these fish and build confidence in offshore fishing. The crankbait covers a lot of horizontal water in a quick fashion, allowing a fisherman to fan-cast around and quickly cover the water until they pinpoint the eact location. Most companies carry crankbaits in a wide variety of colors, which you can fine tune to what the fish want. But, your selection of what brand of crankbait is just as important. Why? Because not all crankbaits have the right quality in the unspoken rules of cranking.
A crankbait needs to be able to:
Represent some sort of forage via coloring that would interest the fish

Cast far and accurately

Get to depth quickly

Get to the desired depth

Swim true

Exhibit effective swim motion despite speed

Withstand rigors of grinding on rock

Overall effort to retrieve on the fisherman should be reasonable
I am no pro, that's for sure. But deep cranking is one of my loves. I have several different brands that I employ on different occasions, all of which I have selected by reviewing many other brands. If you are interested, you can read some of these review. Of note are:
The two represented above bookend the price ranges. In between these are perhaps my favorite line of crankbaits, which balances quality, productivity, and price.
This review is for the
H20 XPRESS CRD Deep Diving Crank
These days, you can spend just about however much you want to spend on crankbaits. I mean that very literally. You can get bargain bin cranks for under $1 and you can just as easily spend $50 on a hand painted custom crank. I am willing to be that you can spend even more than that!
If you are like me, you have gone through several phases of tackle buying. You have bought every color out there. You have bought expensive brands. Then you settled on a few specific colors and started buying cheap. Then the cycle repeated.
It's well known to most of my readers that I am a cranker. When you are a cranker, you loose cranks. Even if you have a great plug knocker like the
Jewel Bait Hound
, you still lose them over time. It just takes 1 here and 1 there. If you are like me, you also break a lot of bills on rocks and engine cowls.
I have settled in to using the Strike Kings, but even then, selections are hard to find in the colors I like and they still cost $7.50.
One thing that makes Academy Sports & Outdoors a little different is that they have their own house brand of baits called H20 XPRESS. This is common knowledge to most, but Huntsville is just now getting their own Academy (4/26). When this new location opens, rest assured that they will have a full selection of types, sizes, and colors. Every Academy I have been to has had shelves loaded.
Having a great selection is one thing, having a great price point on good baits is another.
I was originally skeptical of crankbaits that cost under $3. But, hey, I figured they would make good give away gifts. One day I was out fishing
Wilson Lake
and we were slaying fish in 18 feet of water. There was a bunch of chunk rock on the bottom. If we were grinding the rock, we were catching the fish. We also were getting caught a lot. Originally, I was throwing a
Spro Lil John DD
which is an expensive crank. After I broke one off, I didn't think much about it since we were killing the fish. Then I broke the second one off. I went down to the Strike King 6XDs, a cheaper bait but also good. After breaking off all of the specific color, I had to get desperate. In my bag were a few
H20 XPRESS CRD+ Cranks
.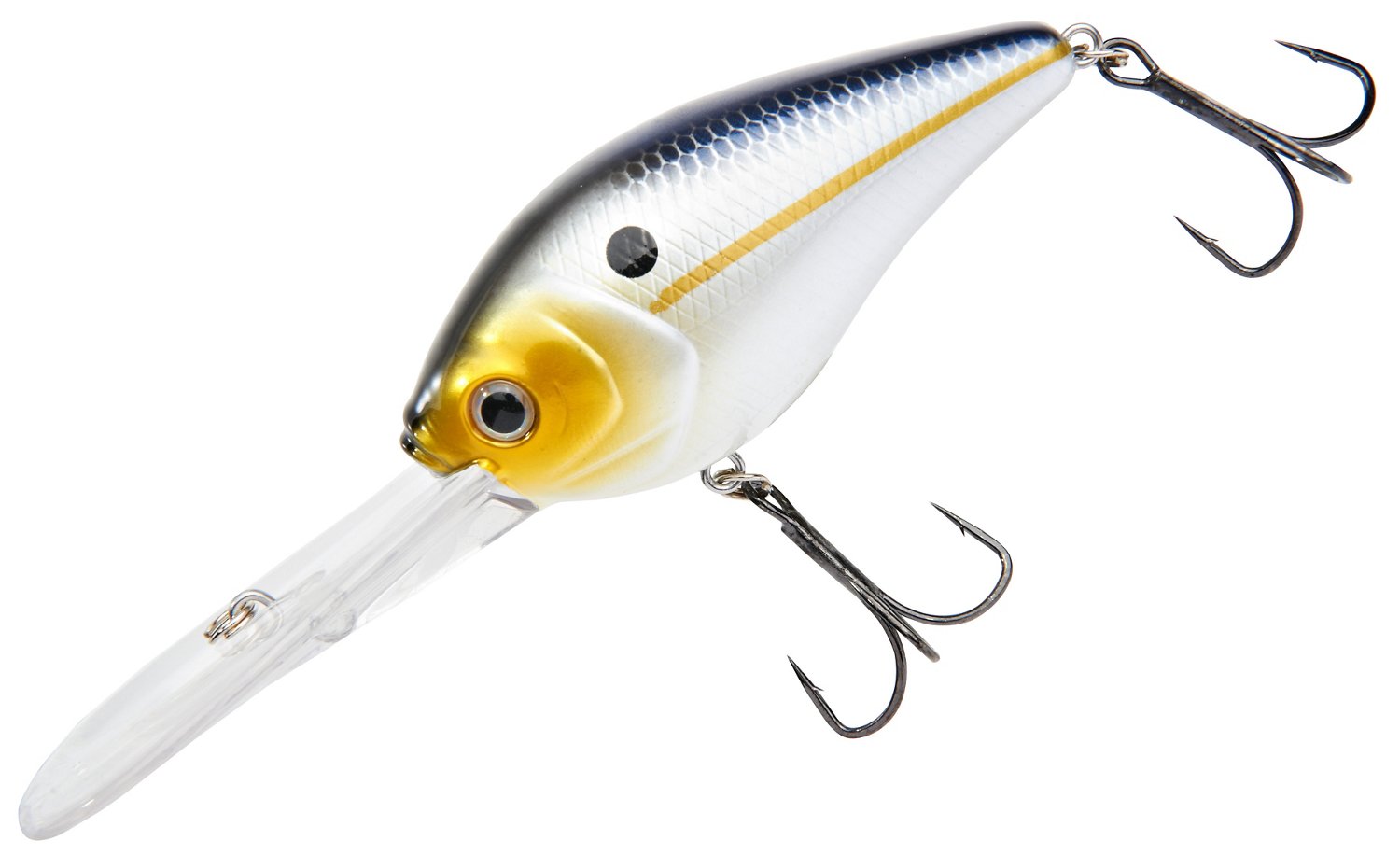 At $2.99 I had a very preconceived notions of the crank.
It wouldn't get down near as deep
It wouldn't run true
It wouldn't last long
Wrong on most accounts. The bait ran true with very little tuning. It lasted all day while grinding it hard in to rock. However, it doesn't get to the depths it needs to.
Here are the facts from Academy:
The H2O XPRESS™ CRD+ Deep-Diving Crankbait features a weight transfer system and a bill inserted at a 0° plane angle for long casts and dives from 16' to 22'. The crankbait is designed with a hand-painted finish to help draw fish to your line. 3/4 oz. 3-1/8" long. Hook size: 2.
Features and Benefits
Compatible with baitcast, spinning and spincast rods
Weight transfer system and a bill inserted at a 0° plane angle for long casts and deep dives
Hand-painted finish
2 size 2 premium VMC treble hooks
Dives from 16' to 22'
Weighs 3/4 oz.
3-1/8" long
Here are my thoughts on it: It's fantastic for the price. Cannot be beat. When you are fishing off shore, on the fish, and you hang up...you won't feel bad at just breaking it rather than spooking your fish. The paint is decent. It isn't great, but it's average and on par with Strike King. Now, the downside to this bait is...it's heavier than comparable baits. You also have to work it a LOT harder. I believe they kept the cost down by not over engineering the bill. If you compare the bills on this bait vs other deep divers, you will see how much meatier it is. It also doesn't meet the expected depths.
In conclusion, it's a terrific bait for the money. I would use it in situations where hang ups are concerned or in tournament situations. But, it does work you hard. It comes with quality hooks, something that Strike King doesn't do. It might need some tuning out of the box. This bait is very comparable to the Strike King 6XD and half the price.